Employment Opportunity with Bia Candle Co
Bia Candle Co is a local candle manufacturer launched in 2019. It's growing fast and lots of new projects are always surging. We are looking to bring in juniors to help us with candle production and participate in the fast growth we are experiencing.
Bia graduated from Vanderbilt with a major in psychology and business. She instills this in all of her young employees. During shifts, she talks about different businesses, ideas, interests. She picks their brains for them to discover and explore what makes them tick. She will always use my networking to promote them and help them on the path they choose.
Bia Candle Co is looking for dedicated and reliable juniors at Cardinal Mooney to be part of our candle production team. The job includes everything in pre and post production and any and everything we need to do in the studio. Since it's a growing business, the tasks can vary. 
Production tasks include:
Loading melter with wax

Wicking jars with hot glue

Cutting wicks

Putting lids on jars

Labeling

Packing orders for shipment

Counting inventory of candles and materials

Wrapping candles with ribbon

Sweeping and taking out the trash

Organizing
We are currently looking for 2 new candidates who are very detail oriented and have delicate manual dexterity, especially for labeling and gift wrapping with ribbons. He/She should enjoy crafts and working with their hands. It's important that they enjoy their job. Bia Candle Co is a fun environment. We learn, we laugh and we work hard.
The shifts are Monday, Tuesday and/or Thursday from 3-6pm. Candidate needs to be able to work 2 shifts per week. Payment is $10/hour for the first month of training; $11/h after first month. After 6 months, we evaluate another increase.
We look forward to having Mooney students as part of our team. Most importantly, we hope this program brings an entrepreneurial spirit and empowerment to young adults, the future business leaders of America!
Open Positions with Long Boat Key Club
Must be 18!
We are looking to hire Superstars! Come join our team and grow with a company that values your hard work! Check out our website for more information: www.longboatkeyclub.com
We are less than 20 minutes from Downtown Sarasota.
We offer a GREAT WAGES!! and incredible benefits: Medical, Dental, Vision, Life Insurance, PTO and much more!
FREE SHIFT MEALS, FREE UNIFORMS.
Here, everyone is greeted with the gracious hospitality and personalized service that has distinguished us as one of the top-ranked resorts in Sarasota, Florida.
                                      OPEN POSITIONS
Culinary
·         Steward(Dishwashers) PM
·         Line Cooks (3 openings)
Food & Beverage
·         Host/Hostess
·         Busser/Food Runner
·         Servers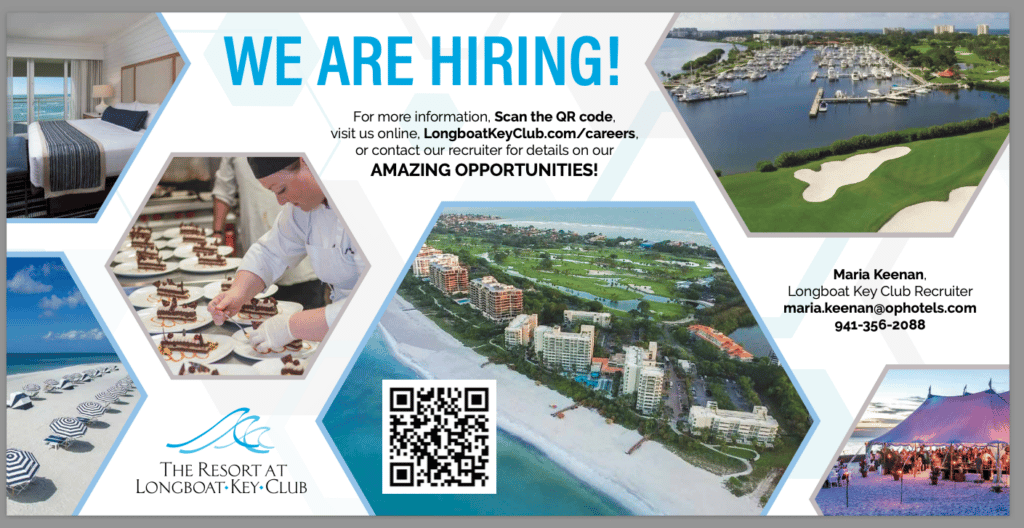 Sarasota Memorial Internship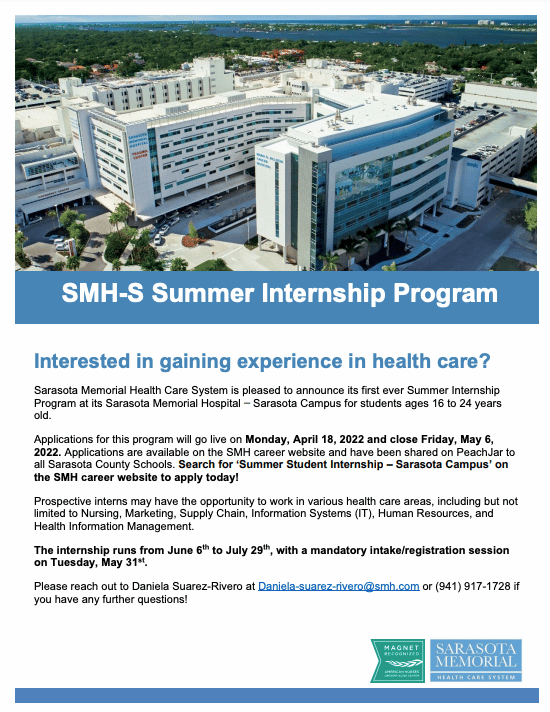 Sarasota Memorial Health Care System
Summer Internship 2022
Program Outline
Internship Overview
Locations:

SMH-Sarasota and SMH-Venice Hospitals

Hours & Program Duration:

24 to 40

hours per week for 8 weeks

Program Dates: June 6 – July 29

Pay Rate: $16/

hour
Internship Requirements
 

Interns must be e

ligible to work in the United States

 

Interns must be a

ges 16

-24

years of age

 

Interns m

ust h

ave transportation

to/from assigned shifts

 

Interns m

ust be vaccinated

against COVID-19

or have a qualified

religious or medical

exemption
Next Steps
1.
Apply online
(CV optional)
–
Applications will go live in April
18
2.
R
egister, r
ank areas of
interest
,
and
specify
shift duration
    a.

Examples of areas of interest

:
        i.

Nursing Unit Support Tech
        ii.

Hospital/Central Transport
3.
Attend
REQUIRED
Intake Session
on
Tuesday, May
31
st
at
9:00 AM occurring at both SMH-S and SMH-V locations.
    a.

Dress code: Smart business casual
    b.

Required documentation:
        ii.

S

econd form of government-issued

photo

ID,
        iii.

D

irect deposit information
        iv.

Proof of COVID-19 vaccination or medical or religious exemption form
        v.

Proof of general immunization (MMR, Varicella, Hepatitis B Series, Tuberculosis test)
4.
Schedule EHS
pre-employment
screening
.
Please see below for FAQ. For additional questions regarding the internship program at Sarasota Memorial Hospital – Sarasota, please contact Daniela Suarez-Rivero at [email protected] or (941) 917-1728. For questions regarding the internship program at Sarasota Memorial Hospital – Venice, please Emily Molnar at [email protected].
Frequently Asked Questions



1) Do I need any previous experience to work in this internship program? a. No previous work experience is needed. All of the necessary training will be provided on the job for each intern.

2) What legal documents should I bring to the Intake Session? a. You may bring your security card, passport, or photo ID and birth certificate.For I9 purposes, copies are not accepted

3) Can I still work as a summer intern if I cannot work for the full program? a. It is the expectation that interns can work for the majority of the 8-week program. Vacations and time-off will be accepted at the manager's discretion.

4) Does a parent or guardian need to be present for any meetings/ appointments? a. If you are a minor below 18 years of age, a parent or legal guardian must be present for the Employee Health screening and drug test appointment. Parents or legal guardians may attend the Registration/Intake Session, but are not required to do so.

5) Where will the Registration/Intake Sessions take place? a. Registration/Intake Sessions will take places at both Sarasota Memorial Hospital – Sarasota Campus and the Sarasota Memorial Hospital – Venice Campus on Tuesday, May 31st. Attend the intake session at the hospital for which you applied.

6) Do I need to have a bank account? How will I be paid? a. Interns must have a bank account in order to be paid, as they will be paid via direct deposit on a biweekly basis. Interns will be required to complete all onboarding paperwork, including direct deposit information, during the Registration and Intake session.

7) Will taxes be deducted from my paycheck? a. Yes, taxes will be deducted.

8) Do interns qualify for overtime pay? a. No, interns will only be permitted to work a maximum of 40 hours weekly. Interns are only eligible to work during the day shift.

9) Can I attend summer school and also participate in the internship program? a. No. Any student who must attend summer school is not eligible to work as an intern through this program.

10) Is transportation to and from work provided for interns? a. No. You must have transportation to and from their shifts. There is a SCAT bus stop stationed across the street from the SMH-Sarasota campus. Bus passes can be provided to interns as needed.

11) Where do I park? a. For the SMH-S campus: i. For the May 31st intake session, interns may use SMH's complimentary valet services at the Waldemere garage or self-park their cars in the Waldemere garage on levels 4 and above. ii. When interns are onboarded, they can park in the North Garage on the top floor only. b. For SMH-V campus: i. For both the May 31st intake session and the duration of the internship program, interns may park in the parking garage on the top floor.

12) When do interns receive their ID badges? a. Interns will receive their SMH ID badges when they come in for their Employee Health Services screening appointment.

13) What are some other perks/ benefits of the program? a. The SMHCS summer internship program will provide its participants with relevant skills and networking opportunities within the healthcare industry. During the program, there will be a Lunch and Learn session, where leaders of the program will discuss employability characteristics, and a resume building workshop.

14) Can my internship be extended into the school year?  a. While an internship extension is not guaranteed, it is possible that you maybe asked to stay on after the program ends. Labor laws surrounding working conditions and hours for minors will apply/determine a minor's work schedule if the internship is continued throughout the school year.

15) Where can I find a COVID-19 Vaccine Exemption form? a. Exemption forms can be found at the Florida Department of Health's website and linked below: i. Religious exemption: https://www.floridahealth.gov/_documents/newsroom/press-releases/2021/11/20211118-dh-8017-covid-19-vaccine-religious-exemption-11.2021.pdf ii. Medical exemption: https://www.floridahealth.gov/_documents/newsroom/press-releases/2021/11/20211118-dh-8016-covid-19-vaccine-medical-exemption-11.2021.pdf

16) What immunization documentation do I need to provide?  a. Interns will need to show proof of 2 MMR, 2 Varicella, and the Hepatitis B Vaccine Series, as well as a tuberculosis test. Proof of immunity for MMR, Varicella, or Hepatitis B may also be acceptable. The flu vaccine is required only during the flu season, which typically runs from October to early May. b. A tuberculosis test is also required for interns. i. If the intern is a minor (under 18 years old), a PPD skin test or QuantiFERON bloodwork is required. ii. If the intern is over 18 years of age, 2 PPD tests are required within the past year, with one dose within the past 90 days. If the intern has no previous PPD test history, 2 PPD skin tests will be given 1 week apart. Alternatively, the intern may get the QuantiFERON tuberculosis blood test done.