PHILOSOPHY
Choice of attire can reflect a seriousness of purpose or casualness of intent.
The dress code serves to avoid any overtones of casualness, reduces competitive dressing, and minimizes the cost of student clothing.
The following guidelines should assist you in meeting our dress code requirements for the 2019-2020 school year.
This year we will be emphasizing the bolded portion of our uniform policy.
The uniform shirts must be purchased from:
CHILDREN'S WORLD UNIFORM SUPPLY
4525 Bee Ridge Road
Sarasota, FL 34233
Phone is (941)-955-6999
www.childrensworlduniform.com.
The PE uniforms must be purchased at Children's World Uniform Supply.  We do not carry PE uniforms at school.
Pants
The pants must be "Docker" dress pants or a brand similar to "Dockers," khaki tan in color with belt loops, and slit pockets only.
Jeggings, corduroy, denim, jean style, low riders, cargo pants, zippered pockets, patched or stitched pockets, excessively "baggy," extremely tight, worn at the cuff, capris, or those with excessive outside stitching are not acceptable.
Pants must be worn at the waist. Pants may not be altered or modified.
Suggestion of stores: Children's World Sarasota, Target, Old Navy, American Eagle
Acceptable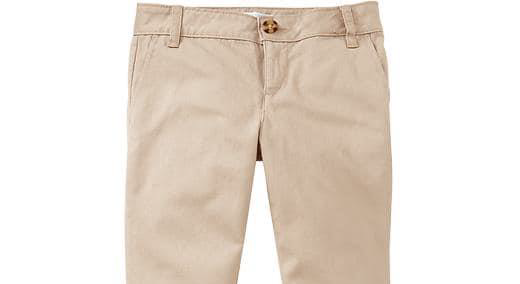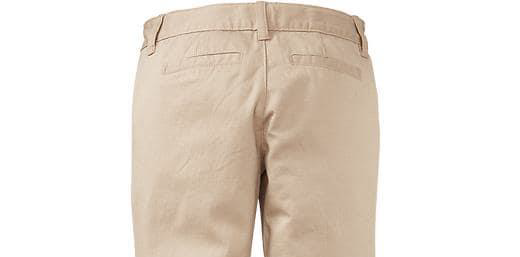 Unacceptable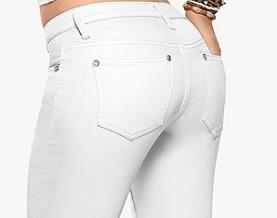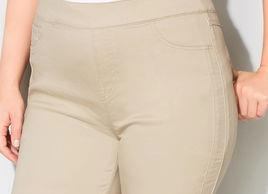 Appearance
Body piercing (aside from ears) is not permitted. Students wearing earrings deemed too long or inappropriate will be asked to remove them. No visible tattoos are permitted. Jewelry should not be extreme. Out of the ordinary or extreme hair coloring or styles will not be permitted. The boy's hair must be of a reasonable length (not to be longer than to the top of a shirt collar), as judged by the administration, and neatly groomed at all times. Boys must be clean shaven every day. The length of the sideburns must remain above the earlobe. Makeup on girls should be appropriate for school. Makeup and nail polish on boys is never permitted. Chains or sweatbands of any kind cannot be worn during the school day.
Shorts
In addition to the Docker dress pants, students have the privilege of wearing shorts. KHAKI TAN Docker walking shorts with belt loops and slit pockets or similar brand may be worn. The length of the shorts must be no shorter than approximately 3 inches above the knee, and should not fall below the knee for girls. (Corduroy, denim, jean style, low riders, cargo pants, zippered pockets, patch pockets, cut-offs, or those with excessive outside stitching are not acceptable.) Shorts need to be worn at the waist. Baggy shorts are inappropriate. Visible long underwear, leggings, wild print stockings, etc., are inappropriate with the shorts. If this privilege is abused, the administration reserves the right to revoke it.
Sweatshirts/Jackets
Students may choose to wear one of the CMHS crewneck sweatshirts as long as the sweatshirt is worn OVER a regulation shirt with its collar visible. Students may also choose to wear the Cardinal Mooney Catholic High School Varsity Letter Jacket. In addition, to the uniform sweatshirts sold at Children's World, the following are also acceptable to wear as part of the school uniform code: All outer-garments, including sweatshirts and jackets sold in the on-campus spirit store. "Uniform Approved" or sanctioned sweatshirts and jackets sold through our team stores are acceptable as well. CMHS sweatshirts that have been written on, torn or altered in any other way are not acceptable for school. Sweatshirts may not be worn tied around the waist.
Shirts
Only the CMHS uniform polo shirt from CHILDREN'S WORLD UNIFORM SUPPLY is allowed. Shirts may be white, red or black and blue for Seniors. SHIRTS MUST HAVE THE BOTTOM BUTTON BUTTONED AND BE TUCKED IN DURING THE SCHOOL DAY. Only plain white short-sleeved-shirts may be worn under regulation shirts. No other shirts are to be worn over the regulation shirts in place of sweaters or jackets.
Shoes
The following are NOT permitted: Sports shoes (baseball/football cleats, etc.), soft-soled moccasins, flip flop sandals, any type of SLIPPER STYLE footwear or boots (including Uggs). Only dress shoes, athletic shoes laced and tied or sandals with a strap on the back of the heel) must be worn.
Hats/Caps/Sunglasses
NO hats, caps or other kinds of head gear may be worn on campus during school hours.
Sunglasses are not to be worn inside any of the buildings at any time.